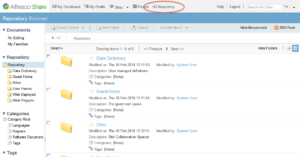 Una nueva funcionalidad en Alfresco 3.2r Enterprise, es la capacidad de poder acceder al repositorio completo desde Alfresco Share y también a la navegación por categorías o etiquetas. Esto va reafirmando algo ya comentado por Alfresco en algun webinar, es decir, lo que conocemos como Alfresco Explorer o Web Client desaparecerá en futuras versiones (posiblemente en la 4.0) y en la versión 3.3 de Alfresco ya podremos hacer todo tipo de tareas directamente con Share.
Para activar esa característica (gracias Paul), simplemente hay que editar el fichero shared\classes\alfresco\web-extension\share-config-custom.xml
Busca la siguiente sección y cambia <visible>false</visible> por <visible>true</visible>:
<config evaluator="string-compare" condition="RepositoryLibrary" replace="true">
     <!--
        Whether the link to the Repository Library appears in the header component or not.
     -->
     <visible>true</visible>
Reinicia Alfresco y ya deberás tener acceso al repositorio a través del enlace como el que se ve en la captura de pantalla.